[wp-review id="1463″]
Do you want to spice up the use of your pool table than just using it to play pool? Don't you wish at times you can play another game, snooker perhaps? Well any pool table can be used as a snooker table. The only problem you may likely have is that, you don't have snooker balls. So instead of purchasing a set of snooker balls (which by the way doesn't come cheap) you settle with playing just pool. That dilemma of whether you'd buy snooker accessories has come to an end thanks to this fully equipped HLC 6ft Green Foldaway Pool Table.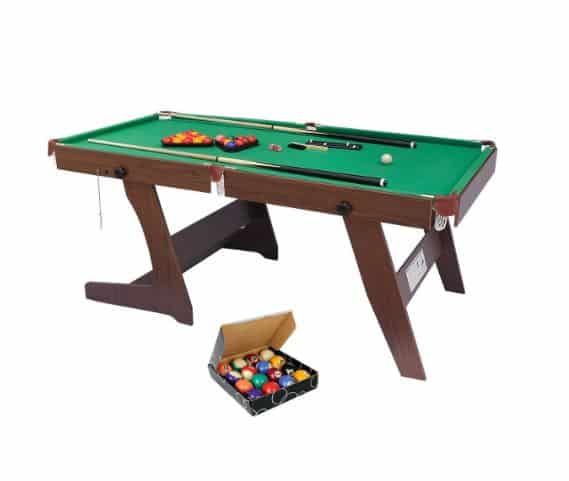 Seen in the photo is the 2-in-1 Pool and Snooker table from HLC.
Features
Robust design, made perfectly for small rooms and tight spaces
Table serves as a wonderful pool table and snooker table in one
Comes with complete accessories (2 48" cue sticks, triangle, table brush, socket wrench)
Has 1 set weighty ½" pool ball set
As an added perk, you get a set of ¾" weighty snooker ball set
Foldable legs make it easy to set up and store if needed
Moving it around would be no problem due to its size
Product Design
The HLC 6ft Green Foldaway Pool Table is built exactly for user's enjoyment and convenience. Given some careful thought into, the manufacturer ensures that you get your money's worth and more with this piece. Its playing surface is different than other small pool tables, but in a good way. Its vertical folding design makes it suitable for small rooms. Not just that, its foldable design also makes it portable and easy to store.
Dimensions: 68.5″x 32.5″x 1/2″
Weight: 99.6 pounds (shipping weight)
What makes HLC 6ft Green Foldaway Pool Table the best small pool table?
It is not often that you get an offer this affordable for a package of this magnitude. As the saying goes, you can't have the best of two worlds. But that is proven wrong by the HLC 6ft Green Foldaway Pool Table set. It gives you the guarantee of maximum enjoyment due to its package inclusions. Quality is not totally sacrificed too.
Pros:
Pool and Snooker table in one
Comes with complete accessories needed to play
Pool and Snooker ball set included
Easy to set up, so you could play almost immediately once item is received
Storage is a breeze too due to its foldable design
Should you want to bring it with you for a party or function, this table makes it easy too
Manufacturer has a very responsive after sales support and customer service team
Cons:
Shipping errors have been noted multiple times
Damage noted on playing surface itself
Easily dented and base is not as sturdy as you would hope
Amazon Review
The HLC 6ft Green Foldaway Pool Table has 20% 5-star rating, 10% 4-star rating and 70% of the rest of the rating values. The numbers are really not so good, making the average star rating for the table a 2.5 out of 5.
Updated on